RE/MAX Real Estate (Central) Calgary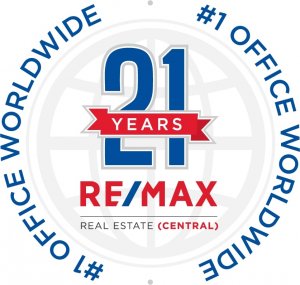 A winning combination of knowledge, experience, ambition and good old-fashioned human connectivity has vaulted RE/MAX Real Estate (Central) to the top of the heap for the 17th consecutive year.
Named the #1 RE/MAX® office in the world, RE/MAX Real Estate (Central) ended 2015 with 4,938 closed transactions. And while 2016 is somewhat more challenging, due to the Alberta economic issues, affordability and low interest rates continue to keep the housing market active. To rank best in the world is no small feat in one of the largest real estate systems on the planet.
To put the enormity of this achievement by RE/MAX Real Estate (Central) into perspective, consider that there are nearly 6,900 RE/MAX® offices, with more than 103,400 real estate agents, in nearly 100 countries around the world!
This Calgary office, which continues to be one of the strongest, most stable offices in the RE/MAX® network, has outshone them all.
"Professionalism, results and customer satisfaction are synonymous with the RE/MAX® name, but what really makes RE/MAX Real Estate (Central) outstanding is its amazing team - which includes a number of the top performing agents in the world - and stable, professional support staff," says Pat Hare, owner. Hare credits this crackerjack team, along with the dedicated hard work of former business partner Paul Mair, with helping put RE/MAX Real Estate (Central) on the international map.
The original founders and co-owners of RE/MAX Real Estate (Central) from 1984 to 2008 were Mair and Hare. Though Mair left in 2008, the strong contribution he made over the years was instrumental in helping RE/MAX Real Estate (Central) achieve the award of the Top RE/MAX® office worldwide for 17 consecutive years.
"It's about the people on the team, and we have some of the best. They are great people," Hare says
"There are others in the real estate industry who watch with admiration as RE/MAX Real Estate (Central) continues to break records. They try to pinpoint all the reasons why," says Nick Profeta, manager and agent at RE/MAX Real Estate (Central).
"First they say, 'Well, it's Calgary. It's an oil city. You have so many REALTORS®. What do you expect?' However, winning this award 17 years in a row, says it's not just a fluke. We have proven ourselves," Profeta says with confidence. It's RE/MAX Real Estate (Central's) 285 agents who share in the pride and the prestige this top office award brings.
Many of the office's associates have been with RE/MAX Real Estate (Central) for more than 20 years. Numerous associates have spouses, siblings, sons or daughters working together in the same office, which adds to the familial feeling and warm atmosphere. RE/MAX Real Estate (Central) has become a community fixture and is part of the community's very fabric as it has maintained the same location at 4th St. N.W. for the last 32 years.
Boasting a number of the top REALTORS® in the world, based on RE/MAX International sales awards, some of the team's sales associates have repeatedly earned spots on the RE/MAX® Top 100 lists for commissions, and/or transactions, with several ranking very high on those lists.
What does all of this mean to Calgarians? "First of all," says Dave Eger, broker and manager, "RE/MAX Real Estate (Central) would not be where it is today without the support and loyalty of its clients."
"We are also proud that our agents reflect the cultural diversity of Calgary. We have numerous multi-lingual agents that can meet the communication needs of any home buyer or seller," says Constance Slippy, director of business development.
"And while the majority of our agents focus their business on residential real estate in the greater Calgary metropolitan area, there are a number of agents who do the majority of their business in Lethbridge, Okotoks, Cochrane, Airdrie, Chestermere, Coaldale and beyond. We also have a number of agents specializing in rural properties, land, or commercial properties in all of these cities and the surrounding areas," Slippy says.
"Our agents care about their clients, and that is reflected in the repeat business and referrals they receive." Eger says.
In fact, Eger adds, "Many seasoned REALTORS® have established long-term relationships with clients, who access their services over the course of a lifetime of real estate needs."
Another key to the success of RE/MAX Real Estate (Central) is the strong foundation offered to each of its associates by RE/MAX International. RE/MAX® associates are afforded the opportunity to run their real estate businesses as independent contractors. RE/MAX® gives them all the tools they need to complete their real estate transactions with the freedom to do so using their own unique talents and styles.
"We have many years of management experience available to give them the support they need to be successful," Eger says.
"Another unique aspect of this office is the Monday morning meeting," says Nick Profeta.
"Ours is one of the few offices in the city that still has a meeting every Monday - the largest for sure. About 120 REALTORS® get together to talk about their new listings. This is a huge advantage to the client. Many top REALTORS® will hear about your listing," he says.
The difference with RE/MAX® REALTORS® starts at the beginning with the training - a comprehensive, bootcamp program for new agents. Many REALTORS® who join RE/MAX® are already experienced, so RE/MAX® offers advanced training that goes well beyond the basics and is flexible, accessible and targets individuals where they are in their careers, without disrupting their businesses.
Agents also strive to remain on top, continually upgrading their education, through initiatives including the RE/MAX University®, which is available online 24/7 and via the RU App. It features programming devoted to furthering the education, expertise and motivation of all RE/MAX® members, including office support staff.
The network even broadcasts a professional coaching series covering everything from sales techniques to customer service topics and motivational learning.
All these factors make up the ingredients for brewing up an office that attracts the best agents in the world.
"We're the number one office because of our loyal buyers and sellers, our associates and our top management team. Our success can be attributed to our REALTORS® building their businesses uniquely and professionally. Some have been with RE/MAX Real Estate (Central) for over 30 years," Hare says.
We wish to thank our valued clients, family and friends for helping us achieve this distinction for seventeen consecutive years.
---
RE/MAX Real Estate (Central) in the Calgary and Lethbridge Communities
Calgarians have shown such overwhelming support for RE/MAX Real Estate (Central) over the years that it's become second nature for these professional, caring REALTORS® to give back to this amazing community.
In fact, giving back seems to be knit into the very fabric of RE/MAX®. RE/MAX® offices are highly involved in charitable organizations and community initiatives. Our REALTORS® are also personally involved in the community in which they live.
RE/MAX Real Estate (Central) is a very strong supporter of the Children's Miracle Network. Individual REALTORS® donate funds from each sale through the RE/MAX® Miracle Home program. This benefits the Children's Miracle Network.
Nationally, RE/MAX® is the largest contributing sponsor to the Children's Miracle Network in Canada, raising in excess of $56 million for Canadian children since 1992
The Children's Miracle Network funds awareness programs, benefits children served by hospitals, health centres and foundations across North America.
All of the local donations remain in Calgary. This gives a much-needed boost to facilities that treat children with all types of afflictions such as cancer, heart and muscular diseases, birth defects, AIDS, and other childhood diseases.
RE/MAX of Western Canada has placed all its corporate citizenship programs under one umbrella: the Community Care Program.
Other initiatives include the Yard Sale for the Cure - a breast cancer awareness and fundraising campaign - the Quest for Excellence Scholarships and the Organ Donor Awareness program. This is in cooperation with transplant.ca, the national website for information, which also acts as a portal to provincial organ and tissue donation programs.
Quest for Excellence gives Western Canadian students a shot in the arm through 24 bursaries distributed to Grade 12 students who show passion, commitment, dedication, and a positive attitude and enthusiasm for a variety of subjects and activities.
The presence of RE/MAX Real Estate (Central) in the community is further reaching and more visible than its soaring balloons, For Sale signs and bus benches, if you know where to look.
It is also seen and felt in community events, sports stadiums and arenas. RE/MAX® sponsors the Calgary Stampede, Calgary Flames, Calgary Hitmen, local arenas, the Olympic Oval and Calgary's soccer centres.
A corporate caring component with the Calgary Hitmen gives underprivileged kids the opportunity to meet with players, and gives them tickets to games they would otherwise not be able to attend.
RE/MAX® partnered with Spruce Meadows to create the RE/MAX® Family Centre. This on-site bungalow offers all of the comforts of home to families who are out to enjoy a day at the world-renowned equestrian facility.
"These are all points of pride for RE/MAX Real Estate (Central), but REALTORS® care on a much more personal level, too," says Profeta.
"So many of the REALTORS® take part in grassroots efforts to benefit the community," he says.
"One REALTOR® volunteers for a handicapped horseback riding association, and others volunteer as coaches for their kids' soccer or hockey teams."
Visibility in the community is evident as REALTORS® participate in charitable runs, fundraisers, and share expertise and experience via organizations such as Toastmasters®, serve on tasks forces for the homeless, and serve in unpaid positions on community boards.
"One of the most heart warming examples of how RE/MAX Real Estate (Central) REALTORS® care, is the story of one of our REALTORS®," says Profeta. "She was called by a senior citizen wanting to list his house. He was in his nineties and had many health concerns. He also needed help looking after his house. He didn't know anything about the services available to him. She connected him with Access Calgary, Meals on Wheels, nurses and social services. She said: 'The most important thing now is not the listing. He needs help and I can provide it.' These are the kind of REALTORS® we have in our office," Profeta says.
"Yes, we're REALTORS®, and yes, we're the number one office in the world. Yes, we're also extremely professional and totally competent; but the most important thing is that our REALTORS® are very caring human beings - with a lot of compassion, commitment and love for their fellow man. I am just amazed how many are out there doing their best to make this world a better place."